As For Me And My House
By David J. Stewart | June 2015
Joshua 24:15, "And if it seem evil unto you to serve the LORD, choose you this day whom ye will serve; whether the gods which your fathers served that were on the other side of the flood, or the gods of the Amorites, in whose land ye dwell: but as for me and my house, we will serve the LORD."

Joshua couldn't control what other people did, but he could control himself and his family. Joshua said, in essence, you go worships false gods if you think that is right, but as for me and my household, we are going to serve the Lord. That's the same attitude that we must have today as Christians. I cannot control how wicked women dress in society, but I can control my own mind. I cannot control how people talk, and prevent others from cursing in the Lord's name, but I have 100% control over my own mouth. I can tell those under my roof not to gossip, curse in the Lord's name or use profanity. I am so glad that I don't have to drink the world's booze, take the world's illegal drugs, watch the world's dirty movies, speak with profanity or gossip to destroy people's lives as the wicked world does. I HAVE A CHOICE, and I choose to please the Lord Jesus Christ!!!

It is frustrating as a born-again Christian to dwell in today's sinful American society. Our sinful American culture has deteriorated to the point of rivaling Sodom and Gomorrah. "Sin City" Las Vegas is now our nation's unofficial capitol, where tens-of-millions of tourists flock to each year to commit sin and watch others commit sin. It is shameful!

Everywhere we turn these days, sensuality and promiscuity abound. I see women covered with tattoos, freak hairdos, and wearing bed room attire (negligees) in public. They should be arrested for indecency. This is what the music industry, Hollywood and the social media have done to our youth. It's all part of the Illuminati subversion of our culture, to steer youth away from God and into a life of revolution. When the "man of sin" is revealed (2nd Thessalonians 2:3), a world of unrepentant sinners will embrace him as their god (Revelation 12:9). Communist tyrant, Vladimir Lenin (1870-1924) said, "The best revolutionary is youth devoid of morals." That is why the Illuminati are targeting children and youth today with every form of debauchery and sick-minded immoral filth.
The Communist Agenda of Gay Rights and Evolution
The music video that are being pushed off on our youth today are nothing less than criminal in the eyes of our holy God. Singer, Taylor Swift's recent music video titled, "BAD BLOOD," is a disgrace to her parents, herself and our nation. What a horrible role model for young people. No wonder Arab nations correctly call the United States... "THE GREAT SATAN"!!!

The following screen capture from Bad Blood is mot just silly, but immoral and highly offensive. Is this how parents would like their teenagers to behave. Look at the guy looking up her skirt. That's why they put dark glasses on him, but the suggestive content is very clear... He's looking up her skirt! What kind of sicko, demented, ungodly, reprobate wrote the script for this video? The answer is Taylor Swift herself, who the video says is the producer. Miss Swift is as Godless and wicked as she is filthy rich, but in eternity, her riches won't mean anything. 1st Timothy 6:6-7, "But godliness with contentment is great gain. For we brought nothing into this world, and it is certain we can carry nothing out." Ill-gotten wealth can only last for one's earthly span of life, then the judgment (Hebrews 9:27). Taylor Swift has sold her soul. ...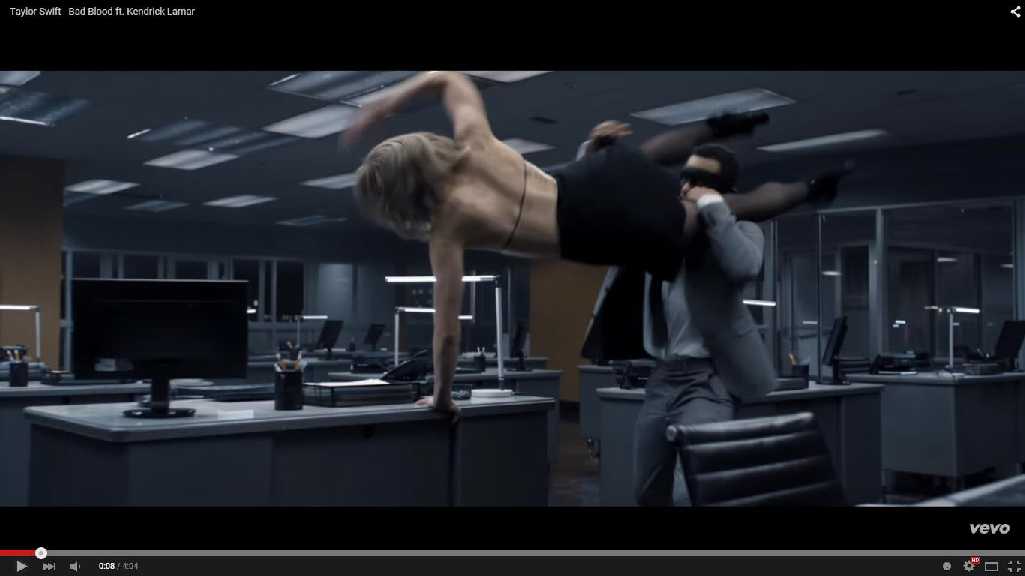 ABOVE: scum of the earth Taylor Swift in action, showing her private area to a pervert looking up her skirt. This is how the Illuminati want today's tweens and teens to behave. Such sickening videos DESENSITIZE youth to sexual immorality. What you see above would be horribly sinful for even a married couple to do in public! Taylor Swift is a disgrace to her parents, America and the Christianity which she professes to have. But hey, anything for money, right!

What is wrong with people? The answer is greed for money. Taylor Swift is only 25 years old (birthday: December 13, 1989) and her net worth is a whopping $200,000,000!!![1] What an evil brat, slut and awful role model for children, tweens and teens! I get upset when I realize that tens-of-millions of little girls are being trained to become whorish sluts like Taylor Swift. It makes me angry how they all start out singing Gospel music, behaving decently in public and wearing long dresses, and then 5-years later they're no better than mega-sluts: Marilyn Monroe, Julia Roberts, Katy Perry, Miley Cyrus and Madonna.

These once proper singers, deteriorated almost overnight into naked gyrating bimbos, leading their young fans into wickedness. Young children are being introduced to the ghetto rap music of the street gangs by Taylor Swift. In her new "Bad Blood" video the words "MOTHER CHUCKER!" appear in big bold letters! I don't have to tell you what those words are inferring. The Devil is a real person, and he wants to destroy your life! Taylor Swift is helping the Devil. America is a strange, spiritually destitute and mentally-ill place.

The Holy Bible says that we have a choice in Joshua 24:15b, "CHOOSE YOU THIS DAY WHOM YE WILL SERVE"!!! I chose long ago as a 13-year-old teenage boy to receive Jesus as my personal Savior; and then at age 15, I chose to dedicate my life to serve God, to help others. Serve the Lord Jesus Christ is a choice that we all must make. I have never regretted either of my decisions. I hope you will make the same correct choices before it is too late. Life is a one-shot deal. John 14:17, "Even the Spirit of truth; whom the world cannot receive, because it seeth him not, neither knoweth him: but ye know him; for he dwelleth with you, and shall be in you." I love and thank God for His blessed Holy Spirit that lives inside me (1st Corinthians 3:16-17).
END
---
"Nobody can love God who doesn't love sinners!"
(a quote by Dr. Jack Hyles classic MP3 sermon, "The Happiest Man" (happiest is the man who will not impute sin to others!)
Soulwinning.info | Recent Articles
If you believe what the Bible teaches, attend a church that teaches the Bible!
Another Gospel Which Is Not Another (a red-hot MP3 by Dr. Curtis Hutson exposing Lordship Salvation)
---
Ye Must Be Born Again!
|
You Need HIS Righteousness!
|
Believe The Gospel