Created In Christ Jesus

Unto Good Works
By David J. Stewart | September 2014

Ephesians 2:10, "For we are his workmanship, created in Christ Jesus unto good works, which God hath before ordained that we should walk in them."

I heard an sermon today by Brother Hyles titled, "The Apprehended Apprehending." God didn't just apprehend you so you could escape Hell and go to Heaven forever. God apprehended you so you could apprehend that for which you were apprehended. God didn't save us just to avoid going to Hell forever, although that is part of it. God didn't save us to go to Heaven forever, although that is part of it. God saved us so that we could live for others in Christ.

Nobody is born a Christian. Nobody grew up in salvation. Before they were saved, every believer was outside the family of God. God wanted to lay hold on you and claim you as His own. The day you receive Jesus Christ as your personal Savior, you became God's child and property. Jesus sought you and He caught you. Now you're not going to Hell. There's no need to get excited, you're just going to Heaven forever! No need to get excited, you're just not going to burn in Hell forever!!! Whew! Praise the Lord! We're not going to Heaven as believers because we're good, but because God is good!
Take care of your morals first, your health second, and your studies last.
But you say, this is my life! No, if you are born-again, your life belongs to God. 1st Corinthians 6:20, "For ye are bought with a price: therefore glorify God in your body, and in your spirit, which are God's." The Church was purchased by Jesus' precious blood (1st Peter 1:18-19). Salvation is completely free, paid for by Christ's sacrifice on the cross and the blood that He sprinkled on the heavenly mercy seat (Hebrews 9:12,24). Hebrews 12:24, "And to Jesus the mediator of the new covenant, and to the blood of sprinkling, that speaketh better things than that of Abel." It's Not The Shedding Of Jesus' Blood That Saves, But The 'SPRINKLING' Of That Shed Blood.

God apprehended us so we could apprehend that for which God apprehended us, which is to live the crucified, the risen life and the ascended life, because we have the saved life by faith alone in the sacrifice of Christ Jesus on the cross and His resurrection.

The Saved, Crucified, Resurrected And Ascended Life
(awesome MP3 sermon by Dr. Jack Hyles - Read Article)

Many Christians are like a stuffed (taxidermied) swordfish mounted on the wall. Instead of eating the fish and putting it to good use, it was caught for the sole purpose of mounting it on a plaque to display on the wall. Likewise, most born-again believers are like mounted fish, on display, but they never fulfil any practical purpose for which God saved them. I don't know about you, but I want to be used of God to help others, by doing good works, which is what God intended for my life as a Christian before I was born.

Let me ask you an important question... what are you doing for others in the Lord? What are you doing to help others because you have the Holy Spirit of Jesus Christ indwelling you (Romans 8:9)? HOW BIG IS YOUR BIBLE? (MP3 sermon by Dr. Hyles).
"The world's greatest need is preaching preachers. The Gospel is our emancipation proclamation: let's take it to the slaves of sin." —Evangelist Lester Roloff
---
Proverbs 14:34, "Righteousness exalteth a nation: but sin is a reproach to any people."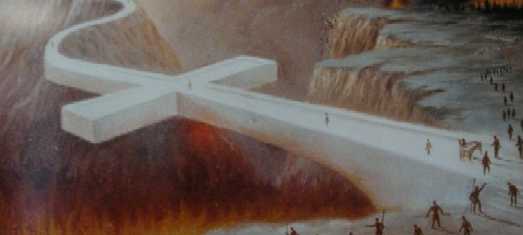 Mark 1:15: "...repent ye, and believe the gospel."
"Search the scriptures; for in them ye think ye have eternal life: and they are they which testify of me." —John 5:39

---
"In flaming fire taking vengeance on them that know not God, and that obey not the gospel of our Lord Jesus Christ: Who shall be punished with everlasting destruction from the presence of the Lord, and from the glory of his power." —2nd Thessalonians 1:8,9
"The undermining power of sin is always the cause of decay and deterioration in earthly kingdoms."
—Dr. Oliver B. Greene

So Much The More As Ye See The Day Approaching (MP3 by Dr. Jack Hyles)
(We ought to work even harder as we see the end years of our life approaching)

"You show me a person to whom Heaven becomes real, and this Book becomes real, and God becomes real, and Hell becomes real, and salvation becomes real, and I'll show you a person that will so much the more serve God as he sees the day approaching!" —Pastor Jack Hyles, a quote from the awesome MP3 sermon titled, "So Much The More As Ye See The Day Approaching."
Soulwinning.info | Recent Articles | Divided By Truth
---
Ye Must Be Born Again! | You Need HIS Righteousness! | Believe The Gospel