When Grace Is No More Grace
By David J. Stewart | May 2014
Romans 11:6, "And if by grace, then is it no more of works: otherwise grace is no more grace. But if it be of works, then is it no more grace: otherwise work is no more work."

Grace is no more grace the Bible says when you ADD works to it, which is exactly what many churches are doing today. The false teaching that a person cannot be saved unless they forsake the world, stop sinning, make full surrender to Christ, intend to reform, count the cost, start a relationship with Jesus, pay the price and commit their life to serve God are espousing a doctrine of devils, a false plan of salvation.

Biblical salvation is acknowledging one's guilt of sin for breaking God's commandments (Romans 3:19), and resting in the death of Christ upon the cross for our sins, His burial, and His resurrection from the dead three days later (1st Corinthians 15:1-4; Hebrews 4:1-11).

The FOUNDATION of our Christian faith is JESUS CHRIST. 1st Corinthians 3:11, "For other foundation can no man lay than that is laid, which is Jesus Christ." The foundation has already been laid, so you cannot lay another foundation. The price for your sins have been paid in full. YOU ARE A SINNER, and unless you accept Christ's payment for your sins, you will spend eternity burning in the Lake of Fire (Revelation 20:15).

Pastor Bob Gray at the Longview Baptist Temple church in Texas correctly preaches . . .

"Repentance means to change your mind—change your mind—change your mind about how you want to get to Heaven to what God says you've got to do to get to Heaven. If you've got to repent of all your sins, you're still headed for Hell tonight." —Pastor Bob Gray Sr., a quote from the awesome MP3 sermon, Why You Should Be A Part Of A Growing Church

In his excellent book, I NEVER KNEW YOU, Michael Patrick Bowen states . . .

You can live for Christ, you can love Christ, you can serve Him with all your might, time, talent and wealth. You can pray to Him, read your Bible, get water-baptized, join a church, witness to people, and do every wonderful work contained within the realm of Christianity, but if you fail to trust Jesus Christ alone for your salvation, He will "dump" you.

SOURCE:

I NEVER KNEW YOU (.pdf), by Michael P. Bowen; by Barbour Books, © 2009; page 77.
Beware of the false teaching in most churches today, even many Baptist churches, which says that we are saved by grace alone, through faith alone, in Christ alone; but you also have to stop sinning to get saved, and commit your life to Christ, surrendering fully to Christ's Lordship. This is like a passenger in a car giving the driver contradictory directions, telling the driver to turn right and left at the same time.
Read what Dr. Harry Ironside (1876-1951) said in his Gospel tract, ANOTHER GOSPEL? ...
"When anyone comes promising salvation to those 'who make full surrender' of all that they have to God, and who 'pay the price of full salvation' he is preaching another gospel, for the price was paid on Calvary's cross and the work that saves is finished. It was Christ Jesus who made the full surrender when He yielded His life on Calvary that saves us, not our surrender in any way to Him."

SOURCE: Harry A. Ironside, from the Gospel tract, Another Gospel.
Now let me quote to you again the great man of God, Dr. Ironside...
"Nor is the Gospel a demand that you give up the world, that you give up your sins, that you break off bad habits, and try to cultivate good ones. You may do all these things, and yet never believe the Gospel and consequently never be saved at all."

SOURCE: Harry A. Ironside, from the sermon: What Is The Gospel?
Either salvation is by grace or it is by works, but it cannot be both. We learn this truth in Romans 11:6, "And if by grace, then is it no more of works: otherwise grace is no more grace. But if it be of works, then is it no more grace: otherwise work is no more work." An excellent book on the subject of salvation is titled, I NEVER KNEW YOU, by Michael Patrick Bowen. May I kindly say, "GRACE IS NO MORE GRACE" in every church that teaches the heresy of Lordship Salvation.
The Saved, Crucified, Resurrected And Ascended Life
(awesome MP3 sermon by Dr. Jack Hyles - Read Article)
"The law tells me how crooked I am. Grace comes along and straightens me out." —Evangelist Billy Sunday
---
If you believe what the Bible teaches, attend a church that teaches the Bible!
Another Gospel Which Is Not Another
(a red-hot MP3 by Dr. Curtis Hutson exposing Lordship Salvation)
"The mark of the child of God is that he loves everybody!"
(a quote from Pastor Jack Hyles' classic MP3 sermon, "FORGIVENESS")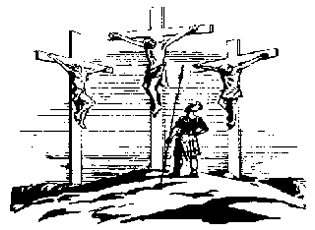 'The Gospel' In Just One Minute (by Pastor Max D. Younce)
---
Ye Must Be Born Again!
|
You Need HIS Righteousness!
|
Believe The Gospel