The Foolishness Of Living For Today Instead Of Eternity
by David J. Stewart | January 2020
John 8:34-36, "Jesus answered them, Verily, verily, I say unto you, Whosoever committeth sin is the servant of sin. And the servant abideth not in the house for ever: but the Son abideth ever. If the Son therefore shall make you free, ye shall be free indeed."

I wanted to start out the year 2020 the right way, so I got up and put on Alexander Scourby reading the Gospel of John in the King James Bible. As I was hearing the inspired Words of God, our text passage impressed upon my heart. The Lord said: "Whosoever committeth sin is the servant of sin. And the servant abideth not in the house for ever: but the Son abideth ever. If the Son therefore shall make you free, ye shall be free indeed." What a beautiful truth! Jesus is saying that this earthly life is only temporary, but since He is alive forever, so also will we be if we believe on Him. John 8:51, "Verily, verily, I say unto you, If a man keep my saying, he shall never see death."

Living for the now and now is foolish, because it cannot last. What saith the Scripture? ...

Hebrews 11:24-26, "By faith Moses, when he was come to years, refused to be called the son of Pharaoh's daughter; Choosing rather to suffer affliction with the people of God, than to enjoy the pleasures of sin for a season; Esteeming the reproach of Christ greater riches than the treasures in Egypt: for he had respect unto the recompence of the reward."

Sin only lasts for "A SEASON," because life only lasts for "A SEASON." James 4:14, "Whereas ye know not what shall be on the morrow. For what is your life? It is even a vapour, that appeareth for a little time, and then vanisheth away." A season! A vapour! Truly, life's shortness pales in comparison to eternity!!! Jesus warned that whosoever committeth sin is THE SERVANT of sin! Well, goodnight in the morning, that means we're ALL the servants of sin, because WE ALL SIN! Romans 3:23a, "For all have sinned..." Therefore, I think the phrase "committeth sin" refers to more than just the act of committing a sin, it refers to a person's entire life without Christ, which is the greatest sin of all! It matters not how morally upright your walk may be in this temporal earthly life, everything you do is a sin if you are a Christ-rejecter. Psalm 7:11, "God judgeth the righteous, and God is angry with the wicked every day." Proverb 21:4, "An high look, and a proud heart, and the plowing of the wicked, is sin."
"If we're going to get anything done for God, just before He comes, we better get at it!"
—Brother Lester Roloff, a quote from the awesome sermon titled: "The Sin Of The Unstirred Church"
We tend to think of "committing sin" as a list of really bad things (e.g., adultery, murder, stealing) which people do, and it is, but we are sinning even when we don't pray, don't love, don't care, don't forgive and don't live for God. The greatest sin of all (commonly known commonly as "THE UNPARDONABLE SIN") is rejecting Jesus as one's Savior. Not getting saved is the ONLY sin that can never be forgiven (John 3:36). It matters not how good of a person you are in the sight of men, you are abiding as a servant in the house of sin, because when you grow old and die this temporal earthly life WILL BETRAY YOU. You will perish! Whatever happiness and fulfillment this world can offer to a man, it will cease at death; of that you may be certain.
"I never had a perfect gift until I had a perfect Christ!"
—Brother Lester Roloff, a quote from the sermon titled: "The Sin Of The Unstirred Church"
I read in world news last week that homosexual singer, Sir Elton John (he looks rough and tired), has been elevated by the English Crown from that of "Knighthood" to "Champion of Honor"! Champion of honor? Oh boy, what will the world think of next? Mr. John has no honor! What saith the Scripture? John 5:41-44, "I receive not honour from men. But I know you, that ye have not the love of God in you. I am come in my Father's name, and ye receive me not: if another shall come in his own name, him ye will receive. How can ye believe, which receive honour one of another, and seek not the honour that cometh from God only?" Hollywood falls all over themselves with awards, self-recognition and false honors. Truly, they haven't the foggiest idea what "HONOR" really is. Proverb 22:4, "By humility and the fear of the LORD are riches, and honour, and life." Proverb 21:21, "He that followeth after righteousness and mercy findeth life, righteousness, and honour." You don't obtain honor by taking your clothes off for the movie camera to capture, for all the world to lust upon. You don't find honor by taking God's name in vain in a film, to be echoed tens of millions of times throughout the halls of time. No sinner who glorifies sin is honorable. Homosexuality is shameful! Hollywood Jews have no conception of HONOR! As we just read, the inspired Holy Bible says honor begins with the fear of God and humility.
"The church has never had anything to do but win souls!"
—Brother Lester Roloff, quoting John Wesley in the sermon titled: "The Sin Of The Unstirred Church"
Being Christ's Disciple Indeed

Please notice in the following Scripture passage that Jesus is speaking to the saints...

John 8:30-32, "As he spake these words, many believed on him. Then said Jesus to those Jews which believed on him, If ye continue in my word, then are ye my disciples indeed; And ye shall know the truth, and the truth shall make you free."

The Lord said those words to born-again believers! Folks, you have just read the best rebuttal of Lordship Salvation you'll ever hear, from the Lord Himself! Notice that the Bible says they "BELIEVED ON HIM," but yet the Lord makes an appeal for them to "CONTINUE IN MY WORD" to be His disciple indeed. In other words, a born-again Christian can lose his soul, but not his salvation! You can end up like the Prodigal Son eating corn husks in the hog pen! Today we call it Hollywood! You can end up like the spiritually destitute man in 1st Corinthians 3:15b, "saved; yet so as by fire." The smallest Bible in the world is the one that we live as Christians! I find that Christians lack BOLDNESS today. The average pastor needs a brace to hold up his spine, because he has no backbone! Acts 4:13, "Now when they saw the boldness of Peter and John, and perceived that they were unlearned and ignorant men, they marvelled; and they took knowledge of them, that they had been with Jesus." Walking with God gives a preacher boldness!!! Many professed Christians today are languishing in mediocrity, playing church, collecting a paycheck, stunted in their spiritual growth. Instead of Standing On The Promises, they are Sitting On The Premises.

That is why so many people complain about churches today! There's a lot to complain about (i.e., counterfeit Bibles, Lordship Salvation heresy, manmade Zionism, lifeless preaching, empty alters, ecumenical false prophets, the filthy queer agenda, et cetera). Sadly, going to church nowadays has become a chore to many people. Did you ever stop to realize that pastors get paid to be at church, but everyone else pays to be there? I understand that we are supposed to cheerfully give unto the Lord, but what is so "cheerful" about paying the salaries of incompetent men in the clergy? In fact, it's downright depressing! Pastor Dwight L. Moody said:
"When preachers begin to doubt this Book, they've lost out with God!"
—Brother Lester Roloff, a quote from the sermon titled: "The Sin Of The Unstirred Church"
A commonly misunderstood passage of Scripture is found in John 12:24-26, "Verily, verily, I say unto you, Except a corn of wheat fall into the ground and die, it abideth alone: but if it die, it bringeth forth much fruit. He that loveth his life shall lose it; and he that hateth his life in this world shall keep it unto life eternal. If any man serve me, let him follow me; and where I am, there shall also my servant be: if any man serve me, him will my Father honour." Notice the phrase "IF ANY MAN SERVE ME." This passage is not about the salvation of the lost, it regards a believer's discipleship. Most believers today are squandering their time and resources, which could be used to serve God. Our time on earth is running out! There were literally 1.6 billion people alive on earth 120 years ago in 1900, who are all dead today! Emma Martina Luigia Morano (1899-2017) was the last known survivor from the 1800's, who died in 2017.[1] There are billions of beautiful young women, and handsome men, alive today on earth, who will all be old, bed-ridden and dead in just a brief matter of time.

Living for this temporary empty life is the most foolish thing a person could do! In the previous Scripture passage from John 12:24-26, the Lord speaks of a seed, which must be buried in the ground first in death, before it can spring forth in new life. Likewise, no Christian will ever spring forth in abundant Christian living, until you die to self, "For ye are dead, and your life is hid with Christ in God" (Colossians 3:3).

Satan desires to sift every Christian like wheat, to make us miserable; but Jesus came to give us all life more than abundantly through faith...

John 10:10, "The thief cometh not, but for to steal, and to kill, and to destroy: I am come that they might have life, and that they might have it more abundantly."

The Difficulty of Working Out Our Own Salvation

I really hate verse 12, but I love verse 13...

Philippians 2:12-13, "Wherefore, my beloved, as ye have always obeyed, not as in my presence only, but now much more in my absence, work out your own salvation with fear and trembling. For it is God which worketh in you both to will and to do of his good pleasure."

I don't want to work out my OWN salvation. We are not commanded to work out "GOD'S SALVATION" (i.e., imputed righteousness); but rather, we are commanded to work out our "OWN SALVATION." That simply means we all have to figure out our own STEPS in life. In ways that no man can fully understand, God is working in our soul in accordance to His will. In Proverbs 3:5-6 God promises to direct our PATHS, not our STEPS. Although God controls the overall direction of our life as His child, if we are acknowledging God in all our ways, we must choose our steps wisely. Psalm 37:23, "The steps of a good man are ordered by the LORD: and he delighteth in his way." This verse means that a good man allows God to direct His steps. The good man delighteth in God's way. Lord, by your grace, please help me to be that good man!!!

In took a Driver's Education (aka, "Driver's Ed") course in high school, so I could drive before I was 18. The students were required to drive in a special car, which had all the normal vehicle controls, but the passenger's seat (where the instructor sat) also had a brake pedal on the floor. This was for safety purposes, obviously. If the student got nervous and failed to stop at a traffic light, the instructor would intercede and hit the brakes. As an illustration, I think that is how God works in a believer's life. The Lord wants us in the driver's seat, but He is close by our side the whole time, ready to put on the brakes if necessary! God promises in Hebrews 13:5, "Let your conversation be without covetousness; and be content with such things as ye have: for he hath said, I will never leave thee, nor forsake thee." God is literally our co-pilot in life.

Hindsight is always 20/20. Soren Kierkegaard wisely said: "Life can only be understood backwards; but it must be lived forwards." That is what God is saying to us—we cannot see the future, as we are choosing our next steps in life; but our eternal God sees the big picture, and our future is already determined by Him. Romans 8:28, "And we know that all things work together for good to them that love God, to them who are the called according to his purpose." That is why we absolutely must trust Him. So when we take each next step in life, we ought to do so in accordance with God's Word (2nd Corinthians 10:5-6). His hand in mine, that is all I need to know. I never walk alone! He guides each steep I take. I love this Gospel song which was composed in 1953...

HIS HAND IN MINE

You may ask me how I know
My Lord is real
You may doubt the things I say
And doubt the way I feel
But I know He's real today
He'll always be
I can feel His Hand in mind
And that's enough for me

I will never walk alone
He holds my hand
He will guide each step I take
And if I fall I know He'll understand
Til the day He tells me why
He loves me so
I can feel His Hand in mine
That's all I need to know

Other friends that I love so
May pass me by
Other friends may never see
The teardrops in my eye
Other friends may never know
The pain I bear
Every tear he wipes away
And all my heartaches share

I will never walk alone
He holds my hand
He will guide each step I take
And if I fall I know He'll understand
Til the day He tells me why
He loves me so
I can feel His Hand in mine
That's all I need to know

I can feel His Hand in mine
That's all I need to know

Written by: Mosie Lister Published by: WB Music Corp

One of the most difficult truths for me to embrace in my life as a Christian, is that God is more concerned with my spiritual growth than He is my happiness. I hate God sometimes...lol! The Lord knows my heart, that I do love Him very much, but I do get angry at Him sometimes too, because I have faith that He can do anything, and when He chooses to ignore my prayers and let me suffer, I get frustrated. I think most Christians can relate to such feelings. The important thing is that we never lose our faith in God.

What saith the Scripture? 1st Peter 1:7, "That the trial of your faith, being much more precious than of gold that perisheth, though it be tried with fire, might be found unto praise and honour and glory at the appearing of Jesus Christ:" Don't miss that last part of the verse. The Bible says the "TRIAL OF OUR FAITH" (that is, the "TESTING" of our faith) is much more precious than gold that perisheth. Not just more, but "MUCH MORE" precious than gold!!! Do you know what that means dear friend? It means that all the things in your life, good and bad alike, which test our Christian faith, are worth more than all the fame, wealth and pleasure in this world. Nothing will test a believer's faith like prosperity! Adversity is a man's friend (Psalm 119:67, 71), but prosperity is deadly (Deuteronomy 6:12).
"Real true faith is man's weakness leaning on God's strength." —Pastor Dwight L. Moody
Jesus said that the Devil "HATH NOTHING IN ME." John 14:30, "Hereafter I will not talk much with you: for the prince of this world cometh, and hath nothing in me." The born-again Christian has no place in the world's demonic system. As believers, we are not SETTLERS here on earth, we are PILGRIMS passing through this dark sin-cursed world. 2nd Corinthians 6:15, "And what concord hath Christ with Belial? or what part hath he that believeth with an infidel?" The greatest needs today are love and truth. Sadly, most churches lack one or both of these virtues. All of the hundreds of so-called "new" and "improved" English Bible revisions have catapulted the churches into enemy territory of doubt.


A Famine of Love in Today's Churches

I've never seen such selfishness as I do in professed Christians today, particularly the ecumenical crowd, who hold grudges and are more loyal to men than God. I have a hard time respecting Baptist pastors who disregard THE TRUTH when I place it directly into their hands. If fools want to respect men like that, knock your socks off! I'll stay home and watch Willie Wonka & The Chocolate Factory! To Hell with these dead money-grabbing churches today! I know God is on the side of any human being who tells THE TRUTH (Romans 3:4). I just wish more Christians cared.
"The voice of sin is loud, but the voice of forgiveness is louder." —Pastor Dwight L. Moody
There is a lot of activity in today's apostate churches, but little love. That is THE PASTOR'S FAULT, for not being what he ought to be spiritually, and failing to teach his people TO LOVE! John 15:12, "This is my commandment, That ye love one another, as I have loved you." The Christian army is the only army in the world that kills its wounded! Carnal churches don't give a second chance to a fallen brother or sister, they shun them away in their self-righteous wickedness! In so doing, they have shunned the Savior Himself according to Matthew 25:45, "Then shall he answer them, saying, Verily I say unto you, Inasmuch as ye did it not to one of the least of these, ye did it not to me." I know how that feels. I have been shunned my whole life by incompetent pastors. One Lutheran pastor berated me, saying: You and that King James heresy! One Baptist pastor (a Bob Jones alumni) called me and Pastor Jack Hyles "a cult" for exposing the modern PERversions of the Bible. We'll see in eternity who was right, and who was wrong, me or the arrogant Bob Jones crowd, concerning the corrupt Alexandrian Bible revisions. I love them all dearly, but they are caught in the grip of darkness, having bitten into the forbidden fruit of the Devil's corruptible seed.

The Lord said that we would have sorrow in this world, but the blessed Day of Christ (the Rapture) is coming when He will come to take us away with Him, and our joy will stay. John 16:20-22, "Verily, verily, I say unto you, That ye shall weep and lament, but the world shall rejoice: and ye shall be sorrowful, but your sorrow shall be turned into joy. A woman when she is in travail hath sorrow, because her hour is come: but as soon as she is delivered of the child, she remembereth no more the anguish, for joy that a man is born into the world. And ye now therefore have sorrow: but I will see you again, and your heart shall rejoice, and your joy no man taketh from you." What a glorious day that will be! Notice that Jesus said "man" takes our joy away. Nobody saddens me more than fellow professed Baptist Christians, who are indifferent toward truth; they just don't care. I CARE!

By God's grace—may I continue to be weak enough, offensive enough, despised enough, contemptible enough, and hated enough by fellow carnal Christians—to be used of God. ...
"God had no children too weak, but a great many too strong to make use of." —Pastor Dwight L. Moody
END OF ARTICLE
---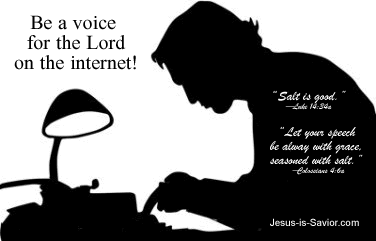 Be A Voice For The Lord On The Internet!
If you are born again, the Holy Spirit dwells in you, and with all this counterfeit Christianity nowadays, a person should be convicted in their spirit about the "falseness" of it all. This is all a part of the worldwide "falling away" foretold in 2nd Thessalonians 2:3. A demonic spirit is relentlessly at work throughout the world today, to promote homosexuality and all manner of filth and evil. This "creeping" deception has incredibly increased these days, even invading the churches. Today's ecumenical churches are unwittingly helping to promote the Devil's New World Order. It is very disturbing that wolves are getting rich off these "thumb sucking" Christians. Thank God for the few preachers today who are awake to righteousness! Even so, come, Lord Jesus!
---
"Faith is the only righteous thing that I can do!"
—Pastor Jack Hyles, a quote from the MP3 sermon titled: "God's Reversal Of Psalm 51"
1st Corinthians 16:24, "My love be with you all in Christ Jesus. Amen."

BELIEVE "THE GOSPEL" 2B SAVED!

Confession Is Never A Requirement For Salvation

'The Gospel' In Just One Minute

(by Pastor Max D. Younce)

John 3:16, "For God so loved the world, that he gave his only begotten Son,
that whosoever believeth in him should not perish, but have everlasting life."

"As a blind man has no idea of colors, so we have no idea of the manner by
which the all-wise God perceives and understands all things." —Isaac Newton (1642-1727)

Another Gospel Which Is Not Another (a red-hot MP3 by Dr. Curtis Hutson exposing Lordship Salvation)

Psalm 34:8, "O taste and see that the LORD is good: blessed is the man that trusteth in him."

"If you have to look at your life to prove that you are saved, it proves that you're not!"
—Pastor Ralph Yankee Arnold; an excellent quote from the awesome YouTube sermon titled, "Why Lordship Salvation is WRONG! | MP3."
---
Ye Must Be Born Again!
|
You Need HIS Righteousness!
|
Believe The Gospel