I Love Jesus!
How long should I read the Bible each day? Read it until your heart burns! HEART BURN... AMEN!
THE VIRGIN BIRTH
OF JESUS CHRIST
Preaching With Authority
(Running Short On Authority,
awesome MP3 by Brother Roloff)
Every Believer Needs
To Listen To Preaching
(preaching brightens the worst days)
Importance Of Listening To God
Defending The Godhead
(.PDF book by Vance Ferrell)
I Am An Idea
(Pastor Jack Hyles)
The Simplicity That is in Christ!
Unbelief always sees problems, but faith always sees solutions in Christ!
EXCEPT YE REPENT
(by Dr. Harry Ironside)
Without Sin There
Wouldn't Be Christmas
---
We must be emptied of that which we are filled, so that we may be filled of that which we are empty...
THE SPIRIT'S ABIDING
(MP3 sermon by Dr. Hyles - all is vain unless the Spirit of the Holy One comes down!)
Life-changing Preaching
By Pastor Danny Castle
SOME ON BROKEN PIECES
(I thank God for using my shipwrecked life to help others for Jesus Christ!)
"Life can only be understood backwards; but it must be lived forwards." —Soren Kierkegaard (1813-1855)
How Big Is Your Bible?
(MP3 sermon by Pastor Jack Hyles)
Oh That Men Would Praise
the Lord for His Goodness!
Be Careful Who You
Choose As Mentors
Forgiveness is a mark of those who follow Christ!
God's forgiveness of man becomes a pattern for man's forgiveness of man. There is no joy in life without forgiveness.
---
"It is Satan's desire to hide the cross from those who are unsaved so they will be lost for all eternity. The devil uses many different things like religion, baptism, good works, moral living, sinful pleasures, bitterness, wealth, and difficult circumstances to hide the light of the Gospel."
SOURCE: BIMI WORLD; Director David H. Snyder; p. 2., Number 52, Volume 1, 2016.
---
Not praying for others is a sin. 1st Samuel 12:23, "Moreover as for me, God forbid that I should sin against the LORD in ceasing to pray for you: but I will teach you the good and the right way." There were 10,080 minutes in the past week, did you pray for anyone for even a single minute of that time?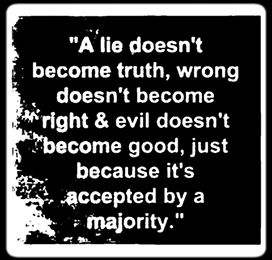 When the believer for any purpose sits side by side with the unbeliever, he will find his cheering for Jesus gets a bit quieter, his zeal is lessened, and soon his testimony will be silenced! —Dr. Jack Hyles, chapter 15, Jack Hyles Speaks On Biblical Separation.

Why There's A Hell
(a red-hot MP3 sermon by
Pastor Danny Castle)

In Awe Of Thy Word
(.PDF book by Dr. Gail Riplinger)