1st Corinthians 9:16, "For though I preach the gospel, I have nothing to glory of: for necessity is laid upon me; yea, woe is unto me, if I preach not the gospel!"
A Live Interview With Mr. Death (awesome MP3 sermon, Evangelist Phil Kidd)
Revelation 6:8, "And I looked, and behold a pale horse: and his name that sat on him was Death [death is a person] , and Hell followed with him. And power was given unto them over the fourth part of the earth, to kill with sword, and with hunger, and with death, and with the beasts of the earth."

---

Do right, if the stars fall.
Luke 8:39, "Return to thine own house, and shew how great things God hath done unto thee. And he went his way, and published throughout the whole city how great things Jesus had done unto him."
---
"There's not one real Bible teacher in the world who's not an evangelist."
—Dr. Jack Hyles, from the MP3 sermon, Man Shall Live By Every Word.
NIV: The Antichrist's Bible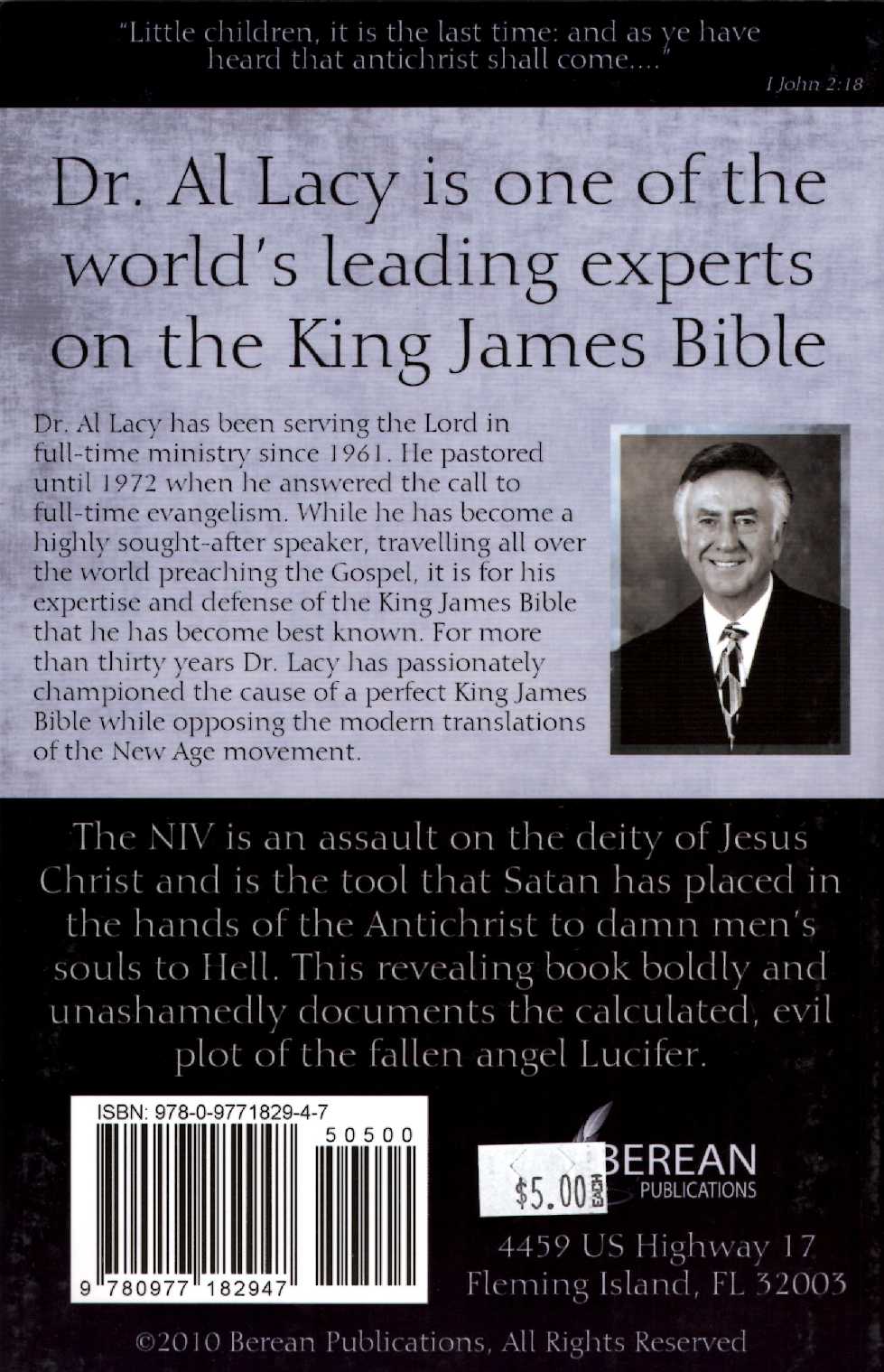 Above: Back Cover of Evangelist Al Lacy's awesome book titled...
NIV: The Antichrist's Bible (Hard copies available)
When I See The Blood (an awesome MP3 sermon by Evangelist Al Lacy)
The Blood Sprinkled Book (an awesome MP3 sermon by Evangelist Al Lacy)
---
Repentance And Faith | A Common Misunderstanding Of Matthew 7:21
Dr. Hyles said, "Don't get too close to people you admire.
The closer you get, the more likely you will discover your disagreements."
That my friend is deep but important. —Dr. Bob Gray Sr.
The Goodness Of God Leadeth To Repentance (MP3, Dr. Hyles; true Biblical repentance defined)
"A pastor comforts the afflicted; but an evangelist afflicts the comforted!"
—Evangelist Phil Kidd
Proverb 16:9, "A man's heart deviseth his way: but the LORD directeth his steps."
"What one generation tolerates, the next generation will embrace!" —John Wesley
"Speaking the truth in love..." —Ephesians 4:15

"This whole society is rotten and Godless. The wrath of God is upon America. Mark my word: if God's Word be true, this nation is headed for the dust." —Pastor Tom Malone (1971)
1st Corinthians 1:18, "For the preaching of the cross is to them that perish foolishness; but unto us which are saved it is the power of God."

---

JESUS CAME TO SAVE SINNERS!!!
Luke 19:10, "For the Son of man is come to seek and to save that which was lost."

"And Such Were Some Of You;
...But Ye Are Washed" —1st Corinthians 6:11

---

"The mark of the child of God is that he loves everybody!"
(a quote from Pastor Jack Hyles' classic MP3 sermon, "FORGIVENESS"

---

"Nobody can love God who doesn't love sinners!"
(a quote by Dr. Jack Hyles classic MP3 sermon, "The Happiest Man" (happiest is the man who will not impute sin to others!)

---

"I am an old-fashioned preacher of the old-time religion, that has warmed this cold world's heart for two thousand years." —Billy SUNDAY

Singing by Brother Lester Roloff

Get your free media player...


Note: You likely already have a media player to hear music and sermons on your computer; but if not, here are links to various free media players.

"Preaching is truth set on fire." —Dr. Jack Hyles
Did you know that you don't have to ask Jesus to save you? God has already told you how to be saved, that is, by simply believing that His Son died on the cross for your sins, was buried, and raised up from the dead three days later. Christ raised up from the dead, which means that God the Father accepted His Son's payment for the sins of the world. Christ suffered on the cross so that we wouldn't have to suffer in a literal Hell forever. Amen! You don't have to bow your head to be saved. You don't have to pray. You don't have to do anything except believe that Jesus died on the cross for YOUR SINS, was buried and raised up, and make that your hope for Heaven (1st Corinthians 15:1-4)!
". . . ye have PERVERTED the words of the living God. . ."
Jeremiah 23:36
Give Me Jesus!
(video sermon by Pastor Danny Castle - You don't want to keep your eye on others, because they'll let you down. They'll hurt you. And you don't want to keep your eyes on yourself, because you'll feel inadequate, like a loser and a failure. Keep your eyes on Jesus!)
Salvation is not doing your best, it is having Christ's best put to your account through receiving Him by faith.
"Do all the good you can. By all the means you can. In all the ways you can. In all the places you can.
At all the times you can. To all the people you can. As long as ever you can." ―John Wesley
"Just keep on keepin' on!" —Evangelist Lester Roloff
---
You don't find happiness looking for it; you stumble over it on the road to duty.
Ecclesiastes 12:13, "Let us hear the conclusion of the whole matter: Fear God, and keep his commandments: for this is the whole duty of man."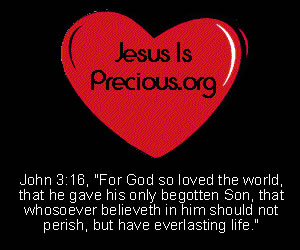 What the Bible Says is So (by Pastor Roy Thompson)
All Scripture Is Given By Inspiration Of God
Someone has said that a camel is a horse put together by a Baptist committee!
"It's easier to fool people than to convince them that they have been fooled." ―Mark Twain
---
Edward Griffin: The Truth About Communism (2:02 hour film)
1962 Katanga: The Untold Story (58 minute shocking documentary by G. Edward Griffin)
The Capitalist Conspiracy: An Inside View of International Banking (by G. Edward Griffin)
The Creature from Jekyll Island: A Lecture on the Federal Reserve (download: Real Audio | MP3)
"G. Edward Griffin exposes the most blatant scam of all history. It's all here: the cause of wars, boom-bust cycles, inflation, depression, prosperity. It's just exactly what every American needs to know about the power of the central bank."
William Guy Carr, in PAWNS IN THE GAME, states on page 178...
People who wish to remain FREE can follow only one plan of action. They must support Christianity against ALL forms of atheism and secularism. (SOURCE: PAWNS IN THE GAME, page 127, by William Guy Carr, 1958).
How Much Do You Love Jesus? (MP3 sermon by Brother Lester Roloff)
If you don't believe the Bible, you can either get right or die wrong.
"I'd rather have a fellow that's got wild fire than no fire!"
—Dr. Jack Hyles, quote from the timeless MP3 sermon titled, IT CAN BE DONE ANYWHERE!
"God never taught anybody how to quit!"
—Brother Lester Roloff
Oh how America needs preaching and praying preachers! Preaching without prayer is dead, and prayer without preaching is shallow Christianity!!!
Acts 5:42, "And daily in the temple, and in every house, they ceased not to teach and preach Jesus Christ."
If you believe what the Bible teaches, attend a church that teaches the Bible!
Another Gospel Which Is Not Another (a red-hot MP3 by Dr. Curtis Hutson exposing Lordship Salvation)